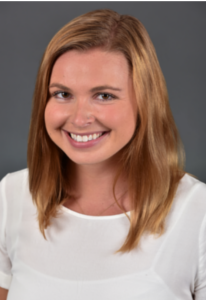 Sarah is the Administrative Associate at the Center on Media and Child Health (CMCH). Ms. Gillis holds a B.A in Psychology from Syracuse University. Prior to joining the CMCH team, Sarah worked as an event coordinator for Autism Speaks and volunteered in the cardiology unit at a Syracuse hospital.
As the Administrative Associate, Sarah assists the Center's Founder and Director, Dr. Michael Rich. Sarah serves as the liaison between Dr. Rich and his patients by coordinating the clinic schedule, interacting with patients in the Adolescent Health Clinic, and completing all patient related administrative tasks.
Additionally, Sarah works directly with the CMCH staff and performs various tasks within their research offices. These duties include tracking and managing all of the Center's financial expenses, coordinating event, meeting and travel plans, and supporting the team in all daily operational tasks. Sarah enjoys her time at the Center and working in pediatric medicine.