In a time when exposure to alcohol, tobacco and drugs in media is almost inevitable, it is important to understand how these often persuasive messages affect children. Many advertisements, movies, magazines, video games, and TV shows portray the use of these substances as commonplace, acceptable and even cool. Research shows that certain types of media can influence the way a child thinks about alcohol, tobacco and drug use, which in turn can affect their relationship with these substances.
How can media contribute to alcohol, tobacco, & drug use in children?
Today, there is a general consensus that frequent exposure to media containing substance use can lead to substance abuse in children and adolescents. Exposure to advertisements, movies and TV shows that depict substance use in a favorable light can influence child and teen behaviors around alcohol, tobacco and other drugs. The link between substance use in media and negative outcomes is largely due to the following:
Movies often depict substance use as hip, sexy and largely consequence-free, not showing the health, social or legal costs. Research has shown that there can be a significant association between child and adolescent substance use and exposure to media characters who use substances and who are believable, of a similar age and who are deemed desirable.
Marketers of vapes/electronic cigarettes/e-cigarettes often use social media to advertise to teens, highlighting 'fun' flavors and a carefree lifestyle. Vaping continues to grow amongst teens, and it is not healthy for youth.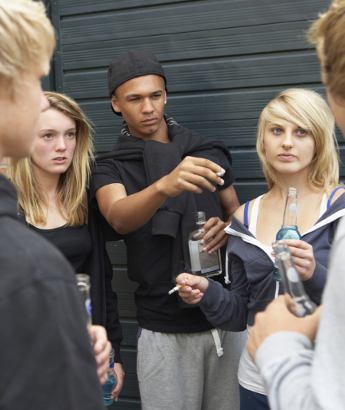 What YOU Can Do
Although exposure to substance use can be found in many forms of popular media, limiting how much your children are exposed to can help ensure that they are not learning incorrect and/or misleading information about substance use from the movies, video games, books, magazines and TV shows they interact with.Here are several suggestions to help you limit and guide your child's exposure to substance use content in the media: