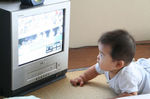 Last Summer we reported on a study of baby videos that showed children who regularly watched these programs scored about 10% lower on language skills than those who did not watch them.
After this study was released, the Campaign for a Commercial-Free Childhood (CCFC) asked Disney, the parent company of Baby Einstein, to "release research showing that Baby Einstein videos are
beneficial to babies or publicly acknowledge that no such research
exists."
The CCFC has announced that this plea has resulted in a complete redesign of the Baby Einstein website, which no longer promotes their DVDs as educational. Though the implication of the name Einstein remains the same, it's a step in the right direction.