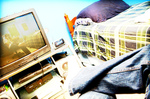 An article in the NY Times suggests that children should not have TV sets in their bedrooms. The author points out studies that have connected children having bedroom TVs with negative effects on sleep, overweight, smoking uptake, and school functioning. The CMCH Database of Research contains 24 studies that have examined some aspect of having televisions in kids' bedrooms.
The article suggests that these effects are because parents simply are not sure what kinds of shows or how long their kids are watching on these private televisions.
The article also mentions new research by Epstein et al where researchers put monitors on household televisions, which resulted in a reduction of hours kids spent in front of the TV and a decrease in Body Mass Index.