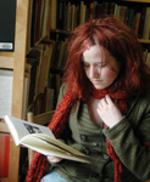 We know that reading offers a wide variety of benefits, but is encouraging weight loss one of them? According to a new study by Duke University researchers, the answer might be yes–when you're reading the right kind of book.
Healthy Lifestyles, Duke's six-month childhood obesity program, gave 31 of its 81 participants a book called Lake Rescue to read. The book is one of B*Tween Production's Beacon Street Girls series, which the New York Times reports was shaped by experts in adolescent development and created as "antidote to the diet of sex and consumerism served up in so much young-adult literature."
This volume tells the story of an overweight girl who gains confidence and an appreciation for fitness on a camping trip. Participants who read Lake Rescue showed an average 0.71 decrease in body mass index scores. The other participants, however, some of whom were given a non-weight-related Beacon Street Girls book and some of whom were not given a book, showed an average increase of 0.05.