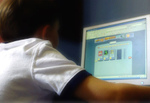 The following was written by guest blogger Dafna Lemish, editor of the Journal of Children and Media, professor of communication at Tel Aviv University, and future CMCH visiting scholar. Since this study is currently published in Hebrew, she translates her findings here:
My colleague Rivka Ribak and I sought to understand the role of the Internet within an Israeli inter-generational context, focusing on parental mediation and children's literacy. We used elaborate questionnaires (developed following the UK Children Go-On-Line project) which were completed by 532 dyads of children and their parents.
The study details intergenerational responses to "out-going content" – information that children give away (such as their personal information and their photos); and "in-coming content" – exposure to material that is deemed inappropriate to the age of the surfers (such as pornography, racist and gory content); the children's perceptions of on-line dangers; and the parent-child-Internet triangle – what parents know and do not know about their children's web practices.
We found that parents know little about their children's Internet proficiency; however, parents in Israel do not suffer from a "moral panic" over their children's use of the Internet. Instead, they trust themselves and their children. Thus it is educational programs and media literacy that they regard as helpful, and not censorship – that quintessential cure for moral panic.
Most interesting for us is noting the difficulties in interpreting the findings:
in practical terms — e.g., is the internet a legitimate source for homework?
from a moral standpoint — e.g., is experimentation with alternative identities immoral?
from a developmental point of view — e.g., are children's efforts at concealing their on-line activities from their parents helpful for the development of their individual identities?
from historical perspective — e.g., do parents today really know and regulate their children less than parents in olden times?
We learned a lot from this study about how the same data can be interpreted in quite different ways, and used to support quite different ideological positions about the social construction of childhood, and what are good and/or bad media practices.