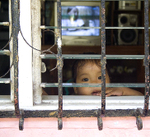 In the last 30 years, technological changes have made staying inside more appealing to kids than ever before. With TV, video games, computers and other media inside, kids aren't always interested in playing outside, or encouraged to do so. One reason parents may actually want to keep their kids inside is because neighborhoods are less safe for kids to play in.
A new study by Brown et al investigates whether an area's crime rate influences the sedentary behavior of the children who live there. After studying a population of 4th graders in Texas, they found that:
Boys were more likely to play video games in communities where robbery rates are high and sexual offenders are common
Girls were more
likely to watch TV in communities where sexual offenders are common, but they were less likely to use computers
The authors point out that given the link they found between crime rates and some kinds of media, and that using these media is sedentary in nature, then crime rates may be indirectly influencing obesity.