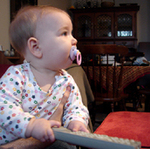 Citing evidence that social interaction is essential to early childhood development, France's broadcast authority has banned French channels from creating or airing programming intended for babies.
This is according to a recent article in USA Today, which says that in addition to preventing French development of such TV shows, the ruling affects two American-made shows directed at babies. These shows are aired on cable channels in France, and the ruling requires that the cable operators broadcast warnings that TV viewing may slow a baby's development.
The United States has no such ban. However,the American Academy of Pediatrics "discourage(s) television viewing for children younger than 2 years, and encourage(s) more interactive activities that will promote proper brain development, such as talking, playing, singing, and reading together."