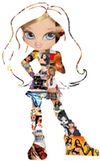 CMCH Librarian Brandy King will be presenting at the
6th Annual Summit
of the Campaign for a Commercial-Free Childhood. The Summit will take
place April 3rd-5th at Wheelock College, and will focus on the theme
"Consuming Kids: The Sexualization of Children and Other Commercial
Calamities."
Ms. King will present research about sex and media followed by a live website
tour of CMCH resources designed to help researchers pursue study on
this topic.