M A Y 2 0 1 3 | 10 YEARS OF SHARING THE SCIENCE BEHIND RAISING MEDIA-SMART KIDS
Taming the Mobile Media Landscape
We are all faced with technological distractions, and these distractions are especially challenging for young people. In this landscape, exciting opportunities outstrip safety guidelines. Sound like the culture of America's Old West?
This summer, add some order, and teach kids to holster their cell phones and music players while they are out and about, whether on foot, on a bike, or in the car. In a national study, nearly
half of high school students 16 and older reported texting while driving
–and students who texted while driving were more likely to take other risks while driving, like not wearing a seat belt or driving after drinking alcohol.
To help them make healthy and safe choices about when to use their mobile devices, work with them on
self-management skills
. Avoiding distractions and delaying gratification can be difficult for teens, but it can be made easier by setting the example you'd like them to follow (like putting your phone away while you drive), providing safe opportunities for practice, and setting
easy-to-remember guidelines during family discussions. One family that appreciates the ability to use media to communicate about their travels but wants to ensure safety while doing so came up with this mantra: "C
heck-in when you arrive – not while you drive
." What's yours?
Share your thoughts and tips on managing media on our

Facebook

page.

Please explore
the latest research, tips and questions other parents are asking the Mediatrician.
To learn more about us, visit our Monthly Meet featuring CMCH employee Hannah Gomez.
— The CMCH Media Health Matters Team
___________________________________________________________________________________________________
The Tips
From the Parent Network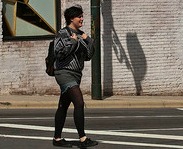 Don't text and cross the street.
Look left, look right–and keep cell phones and headphones in your pocket! Pedestrian injury is the third-leading cause of injury-related death in the U.S. for children ages five to 14, and part of the problem is distracted walking. Using technology while crossing the street, for example, reduces reaction time and puts young people at increased risk of unsafe encounters with vehicles. In addition, children may be difficult for drivers to see, and teens are often distracted by peers and make mistakes when following the lead of others.
To help your child stay safe while crossing the street, teach her to put her phone away while she's walking. Also, especially for a younger child, consider these questions to help you decide whether she's ready (and note that the American Academy of Pediatrics recommends that children under 10 cross streets only with supervision):
Does she know to use the crosswalk, if available, and know to avoid crossing mid-block?

Does my child understand that cars cannot stop instantly?

Can my child judge the speed of on-coming vehicles?

Does my child have the judgement to recognize unsafe situations?

Is my child impulsive?

Does my child know not to follow others who cross in unsafe ways?

Does my child know that low light and poor weather conditions make it difficult for drivers to see?

Does my child understand that crossing while using cell phones can increase risk of injury?
Talk about privacy.
Privacy has many meanings when it comes to media use. Help kids understand that protecting their privacy from data trackers and identity thieves is a smart goal, but shutting parents out is not. Let teens know that you can be a resource to them–you can help them navigate situations they aren't sure how to handle or don't feel comfortable with. You can also combine forces as you seek protect their privacy from those who don't have their best interests at heart, and then together, you can establish guidelines for making friends online and for sharing information, passwords, photos, and location. Learn more about what teens share on social media, and establish a privacy plan that fits your family. Remember, knowing who your child spends time with and where is a wise and basic tenant of parenting — online and off.
__________________________________________________________________________________________________
The Q &A
From the Mediatrician
Dr. Michael Rich encourages families to enjoy their media and use them wisely! Drawing on his experience as a parent, pediatrician, professor, and filmmaker, Dr. Rich shares science-based answers and practical solutions to your questions about media and child health.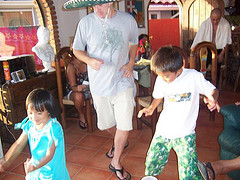 Is it okay for my toddler to watch the Sesame Street movie over and over?
Your daughter is right at the age where she can really learn from screen media. It is developmentally normal for her to want to watch the same movie over and over (and over and over) again-that's how she masters the material. >Read more
Talk about guidelines for social media use–like using it to connect with people they already know, and not sending money or locating information to people whom they do not know. Talk with kids about how to use social media with foresight and care, so that it supports lasting friendships and avoids schemes like this. >Read more

__________________________________________________________________________________________________
The Research
From the CMCH Database
Older toddlers remember information equally well, regardless of whether it is presented in a video or a book, but they retain information for the longest period of time if taught through live interaction. See this study
After looking at how Batman interacts with guest heroes, most of which are younger male characters, researchers recommend that we pay attention to the stories are not represented. See this study