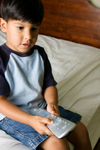 The entertainment industry is targeting very young children as an audience. DVDs and videos for babies make over $100 million in sales each year. BabyFirst TV and rival BabyTV, two channels dedicated entirely to programming for babies and toddlers, are moving into new cable markets over the next 6 months.
While the channels are pitched as teaching tools for parents to use along with their children, Dr. Michael Rich, Director of CMCH, worries that in reality, parents do not interact with their children while watching; instead using the TV as an "electronic babysitter".
A Kaiser Family Foundation study shows that parents often believe these media give their children educational benefits, but research has shown conflicting results. See research on media, infants and toddlers from the CMCH Database of Research.