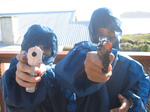 On Wednesday, California will once again bring to the courts the question of whether to bar the sale or rental of violent video games to minors. The Mercury New reports that supporters intend to protect children from the negative effects of exposure to media violence. Opponents, however, say that the law is unconstitutional and claim that the link between violent video games and violence in children has not been sufficiently demonstrated.
A similar question of safety vs. free speech rages in South Korea this week, after the suicide of actor Choi Jin-si. According to the LA Times, rumors on the Web had blamed her for a friend's suicide and may have pushed her toward her own. Government officials who were already advocating harsher punishments for such behavior are using this incident as additional leverage.
As in the California case, proponents say that such punishments will help protect the innocent. But those who oppose the law believe that there is little research to support the connection between such harassment and rates of depression. They also say that it could be used to stifle free speech or discourage political dissent.