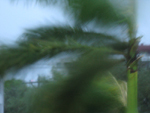 As hurricane season rages on, images of violent storms play repeatedly on TV and computer screens, warning people in a given storm's path to protect themselves, create disaster kits, and prepare to evacuate. It might be worth adding to that list monitoring kids' responses to the storm and media's coverage of it.
So says an article in today's Houston Chronicle, which reminds us to monitor kids' reactions to news about impending storms or potential natural disasters. Unlike adults, young children who see repeated images may believe that the event is happening over and over again, which can increase their anxiety.
The article recommends gauging your children's reactions, providing age-appropriate information and communication, and, before too long, changing the channel. It also notes that children tend to pick up on parents' anxiety without seeing media images, so these measures may be useful even when the TV is off. For more information, see CMCH's page on addressing media-related fear.