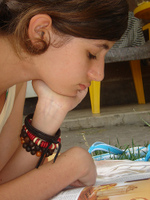 The following was written by Erin McNary, who is writing her dissertation on the portrayal of athletes in kids' magazines at Indiana University:
When I was growing up, one of my favorite magazines was Sports Illustrated for Kids (SIK), but I often wondered why it did not cover female athletes or sports such as gymnastics, swimming, and tennis. Later, as a researcher studying various aspects of sport media, I began to think about what was covered in publications specifically directed toward youth and how those choices might affect their readers.
I decided to investigate by asking the younger members of my family what they enjoyed reading. Like I did at his age, my twelve-year-old cousin Robbie reads Sports Illustrated for Kids. "But," he said, "I wish they would put more articles in about soccer and girls' sports." SIK remains a popular magazine for youth in Robbie's age bracket—millions of children subscribe—and it is a primary source of sports information for children. For these reasons, I began to explore the legitimacy of his comment.
Using content analysis, Indiana University researcher Dr. Paul Pedersen and I explored SIK's written and photographic coverage accompanying articles and covers. We chose components of sports, such as the type and category, and noted the genders of the athletes, authors, and photographers. The complete study, results, discussion, and findings can be found in McNary, E., & Pedersen, P. M. (2008). Journal of Youth Sports, 3(2), p. 9-13. Also feel free to contact me at emcnary@indiana.edu for more information.
As psychologist Albert Bandura noted, learning is affected by what individuals read. Because millions of children read Sports Illustrated for Kids each month, research into the magazine's content and how children process it is important. If only certain sports and role models are covered, the reader gets an inaccurate impression of possibilities in sports.
Because of this study's findings, I am interested in continuing this research as part of a longitudinal study, to include such variables as gender, race, and nationality coverage. Critical components of determining specific effects on youth include speaking with them and exploring other reading materials that target them.