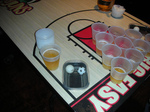 Beer Pong may be known as a college party drinking game, but it has recently taken on a second life–as a video game. The Nintendo Wii, which many have used as a health-positive way to combine video games and exercise, is the platform for JV Games, Inc.'s Frat Party Games. The first game in the series should be released by the end of July, but not before controversy over its alcohol-guzzling roots continues to brew in the press.
The game was initially called "Beer Pong" and still had all the trappings of its namesake (real alcohol aside, of course). Then, after the Connecticut Attorney General expressed serious concern over the game's T for Teen ESRB rating, it was stripped of alcohol content and renamed "Pong Toss." Even with the changes, however, ABC News reports that many people remain concerned that the game could encourage teens toward real Beer Pong, in the same way that people who play car racing games have been shown to have a greater tendency to drive aggressively and get into accidents than those who do not.
Since the changes to the game, the ESRB has indeed changed its rating, although not in the direction that some would have hoped — instead of being rated T for teens 13 and older, it is now rated E — appropriate for everyone.