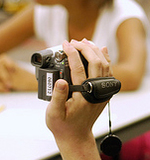 Starting this fall, Boston youth will take to the streets–with video cameras and tape recorders. There they will capture words and images from their communities, which they will use to create an anti-violence media campaign through the city's Violence Intervention and Prevention (VIP) Initiative.
An article in Monday's Boston Globe explained that this project will start with the help of city workers and members of SEIU Local 1199 United Healthcare Workers East. In a city where there have been 38 homicides and 171 shootings between January 1 and August 10 this year, the project addresses violence as a public health issue.
Do teen raps, poems, and performances molded into a media campaigns affect behavior? There is some evidence that they do. One study found that youth-created public service announcements (PSAs) encouraged pro-social behavior, like diffusing potential conflicts, and another showed that young people found PSAs about violence to be effective–especially when, like VIP does, they involved real youth.