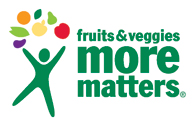 September is Fruits & Veggies More Matters®. FVMM is a health initiative that aims to help Americans, adults and children alike improve their health by increasing produce consumption. FVMM collaborates with the Centers for Disease Control (CDC) to educate consumers about the health advantages of fruits and vegetables, and to provide tips and tools for adding more to one's diet. Research shows that media influences how children think about eating and make food choices. Below is a selection of articles from our Database of Research (DoR) that highlight the relationship between children, eating habits, and media.
Can media affect eating habits?
A study of 3,000 teens demonstrates that the type of media used to provide nutritional information has an effect on changing eating behaviors.
Brand characters could influence preschoolers to select healthy snacks like fruit.
Empty calories and food commercials
An examination of 96 hours of television demonstrates that advertised foods are high in sugar and fat, and low in essential nutrients.
Adolescents who have healthy eating habits are more likely to become adults with healthy eating habits.